TEAM ::: BIRMINGHAM BARONS
LOCATION ::: BIRMINGHAM, ALABAMA
MY FIRST VISIT ::: JULY 4, 2006
OPPONENT ::: HUNTSVILLE STARS
LEVEL ::: SOUTHERN LEAGUE 'AA'
FORMERLY KNOWN AS :::
HOOVER METROPOLITAN STADIUM


RATINGS

BALLFIELD ::: A
SCOREBOARD ::: B
FOOD ::: C+
FACILITIES ::: A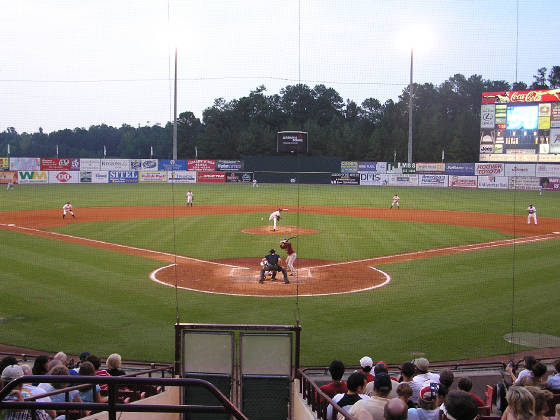 MY TAKE ON THE PARK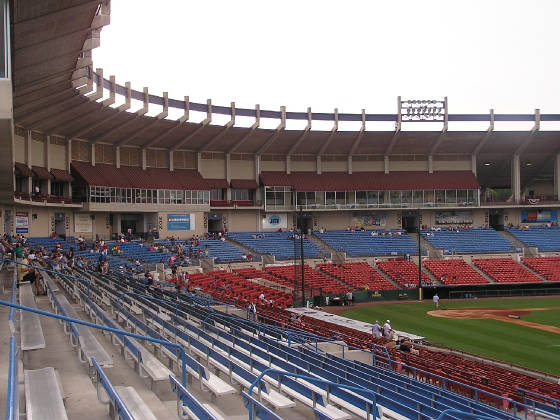 I'VE SEEN IT MANY TIMES .. WHEN THEY REPLACED MacARTHUR STADIUM IN SYRACUSE THEY PUT UP A DULL CONCRETE PARK. WHEN THEY REPLACED COMISKY,THEY PUT UP U.S. CELLULAR, NOT A BAD PARK BUT CERTAINLY NOT COMISKEY. I'D REFERENCE MONTREAL BUT THAT JUST LOOKS LIKE A SPACESHIP, SORT OF LIKE THE EXTERIOR HERE IN BIRMINGHAM.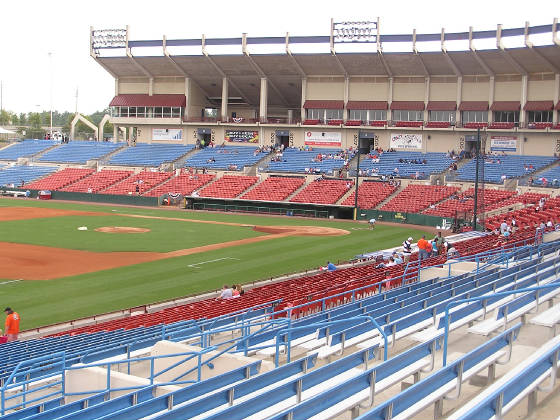 WHEN RICKWOOD FIELD WAS REPLACED WITH HOOVER MET, THEY DID THE SAME THING. ONE CANNOT ARGUE THAT THE PARKING AT HOOVER MET IS 10X BETTER
THAN RICKWOOD, $3 PUTS YOU IN A LOT THE SIZE OF WHICH I HAVEN'T SEEN SINCE KANSAS CITY.

ONCE LEAVING THE CAR, ENTER THE STADIUM ON THE CONCOURSE LEVEL, WHICH IS AT THE BACK OF THE STADIUM. IF DURING THE GAME YOU WANT SOMETHING TO EAT, YOU CANNOT SEE THE GAME WHILE AT THE CONCESSIONS. ONCE ENTERING THE
SEATING AREA, YOU ENTER FROM THE BLEACHER SEATS AND WALK DOWN TO THE BOX SEATS, LIKE TRENTON, DELMARVA, AND BOWIE.
FROM THE SEATING BOWL, HOOVER MET APPEARS SOMETHING LIKE A ONE LEVEL LACKAWANNA COUNTY STADIUM IN SCRANTON. THE SPACESHIP EXTERIOR OF THE
PARK OFFERS THE INTERIOR PLENTYOF SHADE DURING HOT SUMMER DAYS.

A WORD OF WARNING REGADING HOOVER MET. THIS PARK HAS ONE ENTRANCE AND ONE EXIT, I ATTENDED ON FIREWORKS NIGHT, JULY 4. THE ANNOUNCEMENT WAS MADE THAT THE EXITS WOULD BE CLOSED DURING THE SHOW SO T THE END OF THE
GAME EVERYONE LEFT TOGETHER. WITH ATTENDANCE OF 10,000+ IT WAS A 2 HOUR WAIT TO LEAVE. I CAN'T BELIEVE FANS CONTINUED TO SHOW UP FOR MICHAEL JORDAN, OF COURSE THOSE FANS COULD LEAVE AFTER THE 8TH INNING.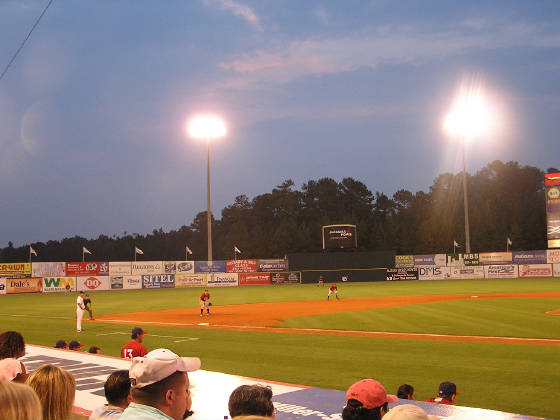 HOOVER MET IS A GOOD PLACE FOR A GAME. SINCE YOU WILL GO TO BIRMINGHAM
TO SEE RICKWOOD FIELD, STOP ON OVER TO SEE THE BARONS. NOTICE THE USHERS
AT THE MET, ALL WITH THE VESTS, WHITE SHIRTS, AND GREASED BLACK HAIR.
THE MEN EVEN HAVE THE MUSTACHE WHICH GIVE THEM ALL THE LOOK OF THE
BARONS LOGO.

ONE OTHER REMINDER, THERE IS SO MUCH BASEBALL HISTORY IN BIRMINGHAM, AND
EVEN MORE US HISTORY HERE AND 90 MILES SOUTH IN MONTGOMERY.

FOR SOME BARBECUE, LOCATED IN BESSEMER IS BOB SYKES BARB-Q WHICH SERVES
UP SOME REAL TASTY BARBECUE .. ENJOY.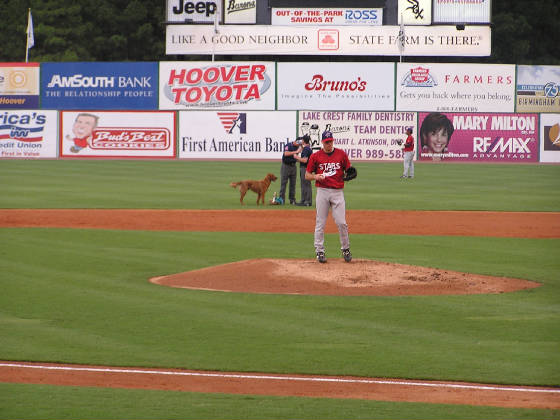 THE LINE UPS

HUNTSVILLE STARS MANAGER :::
7 Don Money

BIRMINGHAM BARONS MANAGER :::
53 Chris Cron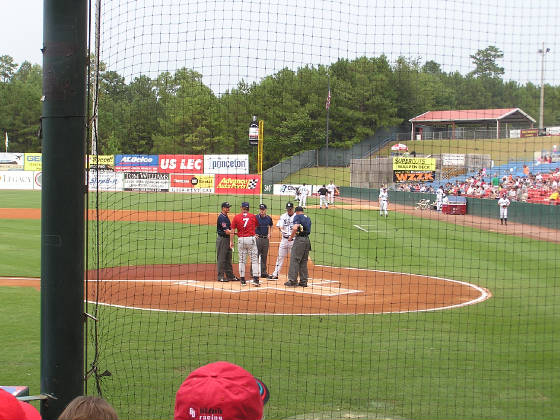 HUNTSVILLE STARS

3 Steve Moss cf
2 Callix Crabbe 2b
20 Jeff Eure dh
44 Brad Nelson 1b
30 Lou Palmisano c
9 Drew Anderson lf
28 Ryan Braun 3b
24 Ron Acuna rf
8 Guilder Raodriguez ss
40 Travis Phelps p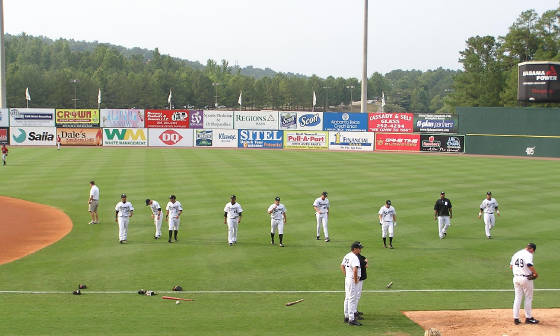 BIRMINGHAM BARONS

12 Chris Getz 2b
7 Pedro Lopez ss
23 Ricardo Nanita lf
6 Corey Smith 1b
43 Cory Aldridge rf
44 Thomas Collard dh
4 Micah Schnurstein 3b
15 Chris Amador cf
9 Wally Rosa c
49 Ryan Rodriguez p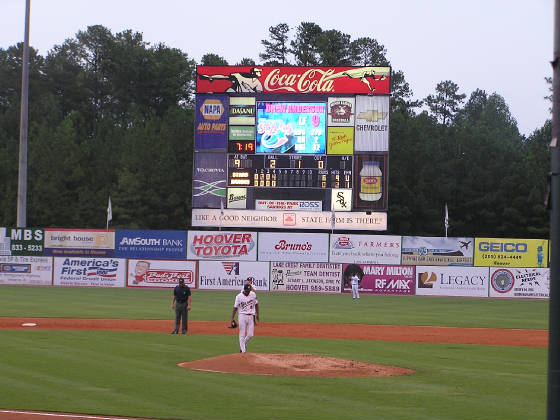 STARS 020 421 130 13 17 0
BARONS 000 000 100 1 5 1

TIME ::: 2:38
ATTENDANCE ::: 10,166
WEATHER ::: 92 HUMID, DRIZZLE

SEND ME AN E-MAIL

LINKS
The Official site of the Birmingham Barons
Where the Barons used to play, my Rickwood Field site
Located in Bessemer, Alabama - Bob Sykes BarB-Q